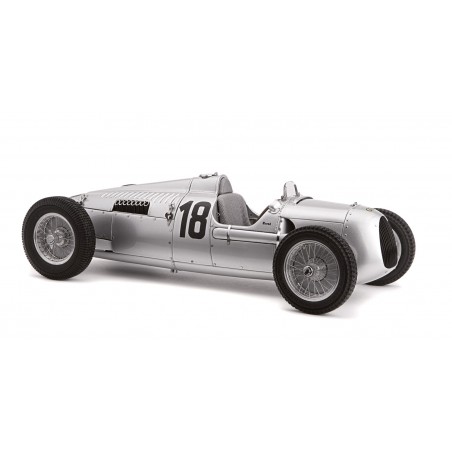  
1/18 Auto Union Typ C No.18, Eifel Race, Bernd Rosemeyer, 1936
1/18 Auto Union Typ C No.18, Eifel Race, Bernd Rosemeyer, 1936
Delivery policy
1/18 Auto Union Typ C No.18, Eifel Race, Bernd Rosemeyer, 1936
On June 14th 1936, Auto Union sent its best driver Bernd Rosemeyer to compete in the famous Eifel race at the Nürburgring, driving an Auto Union Type C with starting number 18. This event became one of the most memorable fog-races at the Nürburgring.
It consisted of 10 laps for a total distance of 228 km. The race was dominated by three prominent drivers of the time from the very beginning. Leading the way was Rudolf Caracciola in a Mercedes W25, next came the veteran warrior Tazio Nuvolari in an Alfa Romeo P3, and behind him was Bernd Rosemeyer in a Type C. After the 3rd round Nuvolari surpassed Caracciola to take the lead. But Rosemeyer was catching up steadily. Following a shock absorber failure that forced Caracciola to retire, a thrilling duel for victory unfolded between Nuvolari and the daredevil Rosemeyer. True to his nickname, Rosemeyer endeavored to become the undisputed front-runner by the 7th round. At a significant distance behind him was Nuvolari, running in the 2nd place. During the 8th round, however, something unforeseen happened. With the sudden descent of a heavy fog, the Nürburgring was enveloped in an impenetrable wall of mist. Visibility was reduced to less than 20 meters! And what did Rosemeyer do? This crazy guy kept going full speed ahead. With a seriously blurred vision, he had to rely on his route memory of the course, a 7th sense for orientation, and an undaunted spirit to win the race.
A legend was born. Bernd Rosemeyer went down in racing history as the "Fog Master".
Auto Union was setting a new benchmark that put an end to the dominance of Mercedes Benz.
Monoposto with free-standing wheels on a tubular frame
16-cylinder-V-engine
2 valves per cylinder, controlled by one overhead camshaft
Roots compressor
Dry sump lubrication
Mixture preparation:1 Solex horizontal dual-carburettor
Bore x stroke:75 x 85 mm
Displacement:6,005 ccm
Maximum output:520 hp at 5.000 rpm
Maximum torque:870 Nm
Topspeed:340 km/h
Wheel base:2,910 mm
Track front:1,420 mm
Track rear:1,420 mm
Total length:3,920 mm
Model car details:
Hand-assembled precision metal model, built from 1,937 single parts, of which 1,587 are made of metal
Removable engine hood with real rubber o-rings for locking hooks
Body panels are fastened by screws with originally-designed heads that feature two perforated eyes/holes
True-to-the-original replication of the 16-cylinder V-type engine with all aggregates, pipes and cabling
Dual exhaust system made of metal
Crank-arm front suspension with friction-shock absorbers made of metal
Metal rear axle with oscillation dampers
Handcrafted radiator grill of stainless steel with a detailed cooling system and oil/fuel delivery lines
Openable fuel tank cap made of stainless steel
Cockpit fitted with a textile-covered driver seat and "Rosemeyer steering wheel" that has round disks riveted on its spokes
Functional gearshift with a metal switch guide
Removable central locking nuts with right- and left-hand threads (side-dependent)